Black Friday Deals
Created on
Nov 11, 2022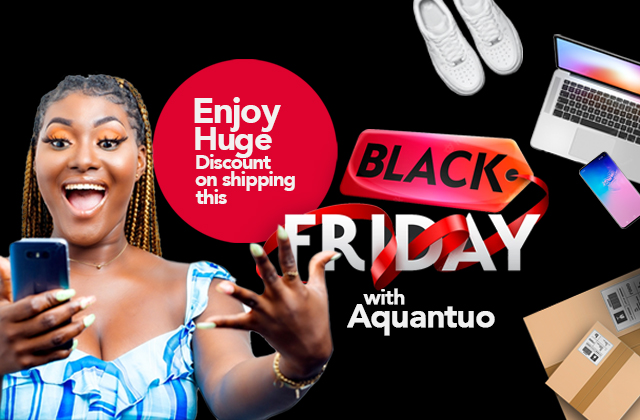 Black Friday Deals: All You Need to Know
2022 Black Friday is around the corner! I know you're eager to finally lay your hands on that dream gadget or product at a cut-deal price. It's that time of the year when several mouth-watering offers keep popping up on your computer screen.
November is the month every online shopper looks forward to. Black Friday and, by extension, Cyber Monday are the two most important days for shoppers to grab amazing deals.
To make the whole process easier, Aquantuo is ready to partner with you to deliver products right to your doorstep. However, if you're not well prepared to get the most out of this once-in-a-year opportunity, you'll be missing out on many amazing deals.
Have you ever wondered how Black Friday came about? Here's a brief history.
A Brief History of Black Friday
The history of Black Friday has somehow been shrouded in mystery over the years. No one knows exactly when the whole idea of a retail-free day began. Moreover, recent sales events such as Amazon Prime Day and Way Day have been giving Black Friday a run for its money.
What we do know is that the term "Black Friday" was first mentioned when the U.S. Gold market underwent a massive crash on September 24th, 1869.
According to some reports, the use of the term "Black Friday" became popular in the early 1960s. Police officers in Philadelphia used the term in describing the chaotic situation of tourists and shoppers a day ahead of an Army-Navy football game in Philly.
Have you ever wondered why Black Friday always comes up after Thanksgiving Day? There is a sort of unwritten rule that the holiday shopping spree officially begins after Thanksgiving. Therefore, several retailers chose to earmark that day to offer discount prices on their products.
Benefits of Shopping on Black Friday
One of the most painful things in life is missing out on an opportunity that comes with many benefits. You could save a lot of money if you take advantage of several juicy deals on Black Friday.
Furthermore, the good news is that this sales event is no longer limited to just one day. Customers stand to enjoy great discounts on products from 25 November till 28 November.
The Monday after Black Friday is known as Cyber Monday, a great day to enjoy great discounts as well. In my opinion, November has got to be the best month of the year, a month to enjoy discounts on top-rated products.
If you are in an African country, you no longer need to worry about enjoying black Friday deals abroad. With Aquantuo shipping services you stand to benefit from black Friday deals. We'll deliver your products directly to your doorstep in Ghana, Kenya, Uganda, Rwanda, Nigeria, DRC and Zambia. Think about that for a moment!
Now, let's highlight some key benefits.
1. You avoid long queues in retail shops
Who loves to stand in a long queue waiting to buy an item? Instead of wasting your time and energy in a queue, Aquantuo allows you the chance to online shop your goods and provides customized shipping and logistics services at an affordable price.
If you are planning to participate in this year's Black Friday, virtual shopping is your best bet. Aquantuo gives great shipping discounts on goods bought from the UK, USA, Canada, and China to Africa.
2. Get a head start on Christmas shopping
Black Friday is the best time to shop for decorations and Christmas gifts for your loved ones. Don't wait for the Christmas rush. Black Friday saves you all the stress of frantic shopping associated with Christmas, and you save a lot due to the discounted prices.
During this period, Aquantuo also provides you with some special shipping discounts for making use of their services.
3. You save money
Finally, the last benefit you derive from shopping on Black Friday; The discounts given by several online retail shops go a long way towards providing you with some cash to save for future purchases.
Popular Stores That Offer Black Friday Deals
Searching for Black Friday deals online can be overwhelming. It's not uncommon for shoppers to move from one website to the next, hoping to get the best deal for themselves.
To secure the best deal, you must have a shopping game plan in place. Because several e-commerce stores keep springing up, it is quite important to know the reputable e-commerce stores that offer the best Black Friday deals.
Here are some popular stores that offer the best deals:
Amazon
When talking about the giant of the e-commerce world, Amazon surely stands tall. Amazon offers the best Black Friday online deal and it's one online store that you can count on to get a variety of discounted items.
You may at times find a product you want so badly from Amazon, but it may cost you an arm and a leg to ship it to an African country. This can be so frustrating!
If the above scenario plays out, make use of Aquantuo's fast and affordable shipping services. Aquantuo helps you ship your favorite product and bring it right to your doorstep.
Best Buy
Best Buy is one of the best online retail stores to get some amazing Black Friday deals. The types of items to get at Best Buy are electronic gadgets such as TVs, washing machines, smartphones, speaker and so much more.
In 2021 the hottest deal Best Buy had on Black Friday was when the retail store gave a $1000 discount on some Apple gadgets. Who knows, we might just be lucky to get a similar deal in 2022?
Again, Best Buy might not offer shipping services to Africa for your desired products but Aquantuo's got your back on shipping.
eBay
This retail store is known for making refurbished gadgets available for sale on its platform. In addition, it's a reliable store to source your open-box gadgets.
About 20% of eBay's products that were available for purchase between November and December 2021 were all rebuilt or refurbished.
eBay is one of the retail stores that must be on your list, especially if you plan to do some quick and easy business on Black Friday,
Do not forget to visit Aquantuo's website to get a discount on shipping fees from eBay to your doorstep.
Walmart
Walmart Black Friday deals for 2022 are starting ahead of schedule. It started on November 7th, and this will run till the end of the month.
With their code-name for Black Friday being ''Deals for Days'', the online store provides massive discounts on tech products, fashion, cosmetics, supplements, toys, and so much more. What a time to be alive!
As you know, Walmart doesn't ship goods outside the United States. However, there is a way around it. To get your products directly shipped to Africa, Aquantuo is your go-to shipping company.
Why Ship with Aquantuo this Black Friday?
Aquantuo is an international online shipping company with the mission of providing solutions to the logistical problem of shipping goods to the African continent.
Have you spotted a product on a popular e-commerce store and are experiencing difficulties shipping it to a country in Africa? Aquantuo is a phone call away. We'll have the goods delivered to you.
With Black Friday 2022 coming thick and fast, be on the lookout for a promo code on our website that discounts the cost of shipping goods to Africa.
Conclusion
Black Friday deals give joy to the average online shopper and shipping with Aquantuo even brings greater joy and smile to your faces. Don't worry about popular e-commerce stores not accepting your debit card to shop, you can take advantage of Aquantuo's 'Buy for me' service.
Tell us what you want to buy, and we'll make the purchases for you with a small service fee. Remember, just list it… we'll deliver it.