Pick and Pack Fulfillment Services
Created on
Nov 06, 2022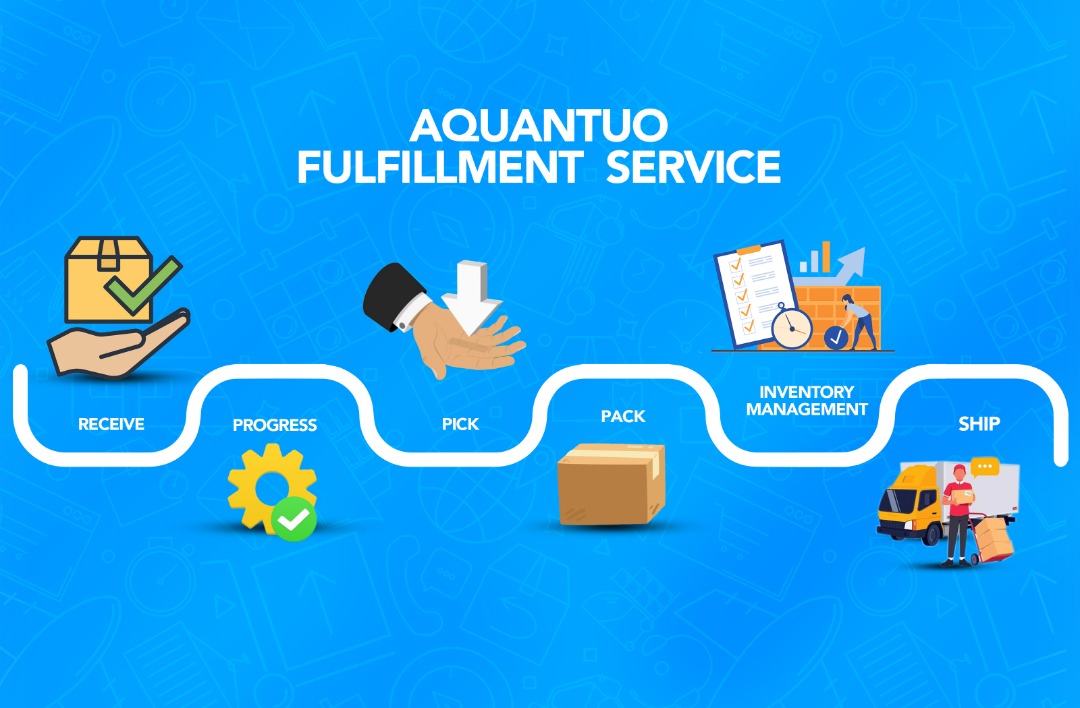 If you were to mention one fact about Nigeria, what would you say? As a matter of fact, Nigeria is Africa's largest economy.
The country is a growing hub for pick-and-pack fulfillment services. Nigeria recorded a gross domestic product of 440.8 billion dollars in 2021.
Buying products on e-commerce platforms has to be one of the most exciting things we do online. You place an order online, and the product gets to your doorstep in hours or days, depending on some factors. It feels like magic. It's nothing short of astonishing.
Fulfilling orders from customers is not an easy task, considering the number of orders made in a day. The process of delivering products to customers is more complex than merely clicking a button when you shop online.
An international shipping company like Aquantuo is always on hand to help you with pick-and-pack fulfillment services.
Nigerian E-Commerce Market
It will interest you to know that Nigeria is the 33rd biggest market for e-commerce. The market generated a gross profit of 6.9 billion dollars in 2021.
The country is projected to record a growth rate of 13.4% between 2021 and 2025 in its e-commerce sales. The country is quite a thriving place for the e-commerce business.
There are over 280 million digital shoppers in Africa, with a large percentage coming from Nigeria.
If your company is planning to make inroads into the Nigerian market, Aquantuo is ready to collaborate with you.
As orders from your clients and customers come in, it is our responsibility to do the picking and packing for them. Our main office in Nigeria is in Lagos, Africa's most populous city.
In addition to Nigeria, the company offers similar services in Kenya, Ghana, Tanzania, Uganda, Rwanda, DRC, and Zambia. We are looking forward to adding many more countries in the near future.
E-Commerce Fulfillment: What You Should Know
It requires so much to run an online store, but the hardest part of it is e-commerce fulfillment. Big companies invest millions of dollars to fulfill the orders of their customers and clients around the globe.
For online shoppers to have their goods delivered to them at their doorstep, many processes go into this. Here are the six major processes:
Inventory management
Inventory management is a fundamental part of the e-commerce business. It involves knowing the available products and those that are not.
You can't fulfill a client's orders without knowing the available goods.
Storing in a warehouse
Warehouse storage is another critical part of e-commerce. You have to store the inventory of customers well to protect it from wear and tear.
Aquantuo provides warehouse storage and fulfillment services for companies in need of them. Our staff has deep knowledge of pick-and-pack processes and inventory management. We are always a phone call away from lending you a helping hand.
Getting orders
Receiving orders is the easiest stage of the whole pick-and-pack process. Your retail platform stores the orders of your clients.
Packaging
This stage involves sorting the goods and products ordered by customers. The products are wrapped for onward shipping to their respective owners.
Shipping
The shipping stage is an important one in the e-commerce business. Without this process, customers can't lay their hands on their products.
A company like Aquantuo has the deep knowledge and expertise to handle the shipping of goods from several parts of the globe. The company is your number-one go-to logistics company.
3 Common Strategies for Pick and Pack Fulfillment Services in Nigeria
To fulfill the orders made by customers, many e-commerce retailers in Nigeria use two major methods. They either fulfill the orders themselves or outsource them to a third-party company like Aquantuo.
Any of the two methods has its pros and cons. The peculiarities of your retail business would, to a large extent, determine the best method for you.
Now, let's discuss the three fulfillment strategies common to the Nigerian e-commerce market.
1. In-house fulfillment
This is the most common method of fulfilling orders in Nigeria. It's quite simple, the retail online company does all the picking and packing by itself.
Therefore, considerable time, resources, and manual labor go into it. On a general note, companies that make use of in-house fulfillment methods are mainly just starting or receiving less than 100 orders in a month.
On the other hand, if your company receives a large volume of orders in a month, the in-house method may not be the best for you.
A significant advantage this method has over others is the fact that little capital is needed to start the business. In addition, businesses that make use of this strategy are better able to render premium support to their customers.
2. Third-party logistics
This is a common strategy for fulfilling orders in Nigeria. This strategy involves outsourcing the logistics of your products to a company like Aquantuo.
The hired company oversees the pick and pack process of the products until they get to the doorstep of the customer. Other services Aquantuo renders include the following:
Freight forwarding

Inventory storage

Cross-docking

Order management

Customs clearance
Companies that use third-party logistics companies like Aquantuo receive orders beyond their capacity. To cope with tons of orders, they are left with no choice but to outsource.
When you outsource your order fulfillment services to Aquantuo, you can sleep with your two eyes closed knowing they will handle your inventory with every touch of professionalism and expertise.
Another benefit of using Aquantuo to handle your order-fulfilling service is that they eliminate the exorbitant cost of starting and maintaining operations in a new country.

You can as well take advantage of the real-time updates we provide on every order we process. We provide every client with whom we work with a third-party tracking number.
3. Dropshipping
Dropshipping is an order fulfillment strategy that many online retailers in Nigeria use to meet the needs of their customers. You don't keep stock of the products you sell, but rather pass the sales order to the manufacturer of the products.
For example, you may own a business that specializes in selling foreign cosmetic products from Asia. So instead of importing the products yourself, all you do is pass all the orders you got to the manufacturer in Asia.
The manufacturer then ships and delivers the cosmetic products to your customers in Nigeria. While you charge premium prices on all sales orders, however, you pay the manufacturer of the products at a subsidized rate.
Aquantuo Nigeria can then work with the maker of the products for onward shipping and delivery to your customers. If it's done the right way, dropshipping can be an effective way for you to fulfill the orders of your customers.
Conclusion
The e-commerce market in Nigeria is growing at an alarming rate. There is a need for investors to take advantage of this growing market.
Fortunately, Aquantuo has been playing a leading role in warehouse storage of inventory and fulfilling orders from customers in Nigeria.
If you are planning to work with one of the leading international shipping companies on the African continent, Aquantuo is a call away.